Dam Ron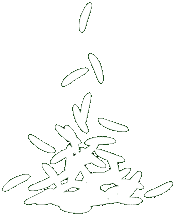 Strolling through the French architecture of Dalat, I decide I'm ready to stop being an ordinary tourist. It is time for something more interesting than the standard coastal tour up Highway 1. At the same time, I still hear all the warnings ringing in my ears about the senselessness of cycling alone through darkest Vietnam. So providence provides Peter Frohling to help me make the correct choice at this juncture between tourism and travel. When we discover we've both ridden from Saigon we start comparing notes. Immediately we discover shared ideas. Both of us have decided to travel alone as a means to test ourselves and are seeking adventure. We talk guardedly about riding together for a few days. Neither one of us is willing to give up our solo journeys, but a few days of un-mimed conversation has an appeal.
During the month Peter spent in Saigon visiting his sister, he decided that he wanted to cycle around Vietnam. So he bought a Vietnamese bicycle and strapped on his sister's shopping baskets and a suitcase with a change of underwear and a first aid kit. Then he rode north in his kakhi pants, button down shirt and leather walking shoes. By way of explanation, a cap emblazoned in Vietnamese with 'Saigon Tourist' completed the ensemble. I appreciate the contrast with my synthetic cycling shirt, special cleated cycling shoes and courdura panniers.
Peter had been planning to ride up the coast, but when I show him the dotted, curvy line on my map connecting Dalat to the more mountainous, less travelled National Highway 14, he is sold. We share some reasons for wanting to join forces. He feels the same trepidation as I do about a first journey into the developing world. And we feel that we complement each other. Peter's Vietnamese is five weeks more advanced than mine, and he can speak enough to stay with people overnight. And my water filter and stove will ensure that we will not starve if hospitality becomes hard to find. We decide to make a deal. We will stick together through the mountains until we reach a proper highway at Buon Ma Tout. After that we will split up. But there is one final reluctance. Neither of us wants to give up the independence of our individual travelling. Peter is also worried that when we split up, he will be stuck following my tracks the entire way to Hanoi. I say, "Look, neither of us is blazing any trails here. But you're blazing a trail and so am I." We seal the bargain with a handshake.
A half hour from the city center, we sneak nervously past a sign announcing a restricted area. Armed only with the name of a town at the other end of what now seems a rather vague route, we ride in the direction a bao vendor points us. I don't notice what in retrospect was probably a sneaky smirk.
A few bouncy kilometers down the dirt lane, we stop in awe after rounding a bend. Below us a valley opens. Water buffalo stroll through a checkerboard of rice paddies along the shore of a small lake. We greet the silence with silence. What will soon become a commonplace scene has us snapping photos. "This is what I came here for," says Peter solemnly. It's as if we've stepped into the past. Instead of motorbikes and trucks, water buffalo are the main traffic. An agrarian area unfolds before us. We've left hectic modern Vietnam behind.
We have also left any pretense of road maintanance behind, and find long sections of the path have washed away. We often find ourselves heaving loaded bikes through thick mud and balancing across flexy planks.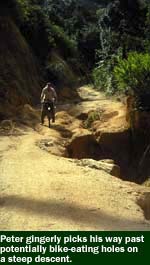 We quickly discover that we have the same determination, and turning back to find an easier route is never a question.
In the early afternoon, Peter asks some people working on terraced rice paddies for drinking water. A small, dark young man answers in English, "Please wait here, I will bring some for you." I climb up the embankment with our bottles and follow him along the ridges dividing paddies to a small thatched lean-to. While taking boiled water from a kettle, I learn that Nhong commutes by bicycle to Dalat to study English. When I ask him about the lay of the land ahead, and about possibilities for camping, he immediately invites us to stay with his family. Peter and I take an instant shine to Nhong's broad smile. And Peter says, "Staying with Montagnard people is definitely on my list." In spite of the remaining daylight, we decide to take this opportunity which has fallen in our lap. Backtracking to his house, Nhong casually shoulders our loaded bicycles over the plank across which we had cautiously shuttled our gear. He's in practice from carrying 50 kilogram sacks of rice.
He shows me around his village of a dozen identical long houses constructed from blond wood planks. His neighbors have coffee growing next to their house. When he explains how much more money coffee brings per kilogram than rice, I ask why everyone doesn't grow coffee. I feel I've been slapped when he replies, "we can't eat coffee." From the edge of the village is a view of a lake. "That is Ankoet," says Nhong, "many tourists go there." Ankoet Falls is a landmark we had been aiming for on the way to Dam Ron. But it lies in the wrong direction. I begin to suspect we've taken a wrong turn.
Peter and I are both still terrified of getting sick. We suspiciously contemplate whether to drink the water presented to us. Later, Peter and I pick tentatively at a simple dinner of rice, steamed vegetables and a small omelette. "Don't worry, eat," says Nhong. But we do worry. Alone at the table in Nhong's house, we wonder if this is all there is for the entire family. Are they waiting for us to finish so they can share the rest? Nhong assures us that they already ate. This form of hospitality is a bit offputting. Eating separately implies special treatment that makes us feel a little guilty. We seem to be exiling them from their own dinner table. I can not just accept the hospitality as it is given without second guessing it. After eating, we retire with Nhong's father and grandfather to a mat on the packed earth floor.
There we proceed to get communally sloshed. As other relatives arrive from the fields to join the fun, the father inserts a straw into an urn full of rice liquor. In turn, each person drinks from the straw, lowering the level of liquid. Someone pours water from a glass into the top, assuring that a full measure has been sipped. Thankfully, this also has the effect of diluting the liquor so the night can not last forever.
I attempt restraint. I'm terrified of losing control in this new situation. Ten days in Vietnam, I still hear all the warnings ringing in my head. I don't eat uncooked vegetables, I don't drink water unless I know it's source, I'm prepared to refuse any offers to buy gems. I use my own padlock to lock the outside door when I stay in a hotel. I insist on keeping my bicycle inside my room instead of allowing the hotel owner to keep an eye on it in his ground-level storeroom. I keep all my money and important documents in a pouch inside my shorts as I ride my bike. I try to refuse as many rounds of the straw as I can while the party gets more raucous.
The conversation invokes the Tower of Babel as Vietnamese, French, Lec, English and German are thrown around the circle. Becoming drunker, Nhong's uncle Jaques begins to whisper to Peter in French. He mentions FULRO, conspiratorially burning the paper on which he writes the acronym. But the anti-racism organization is no secret, and has reportedly been inactive for years. "Ils parlent des economiques. Nous parlons des politics," he repeats importantly to a trapped Peter, burning another piece of paper while I thank my good fortune for not having learned French.
Eventually, Peter and I end up unrolling our sleeping bags on the mat, refusing to evict anyone from their bed. Peter seems to sleep calmly, a backpack containing money and camera tucked under his head for a pillow. What if this party was set up to get us sleeping drunkenly, then bang, we're robbed and killed. I nod off now and then, and find myself awaken by forms drifting by on their way to the piece of forest designated as the toilet. A clock chimes a little tune every hour, and I hear most of them.

Rolling on in the morning, we are both bleary-eyed. We plow deeper into the hills. Grassy slopes are topped with trees perched thinly on ridges. For awhile we move through valleys filled with busy farmers. Groups of people stand with switches, driving buffaloes to walk in circles,
their hooves threshing the harvested rice. The Montagnards gaze shyly from their fields at the two tourists pushing bicycles along. The peace is palpable not only because of the lack of trucks, but also because we have escaped from the constant, aggressive mercantilism of coastal Vietnam.
Peter starts to drag a little bit. He feels sick, but pushes bravely along. No problem. I think this might be the best part, and I don't mind if it is prolonged. I lounge at the top of a steep hill, relaxing while waiting for Peter to catch up. When he does, he curls up on the grass and goes to sleep. I read, and listen to the silence. I would expect more evidence of animals in this pine forest. But since the Vietnamese proudly say they eat anything that walks, crawls, swims or flies, the lack of wildlife is no surprise. We camp in a grassy clearing, far from anyone.
We're out of food the next morning, and we push on. A little map Jaques drew for us tells us to go right at a junction. Going left is more direct but more difficult. I would not want to struggle up a more difficult path than the route we take that afternoon. We entertain each other with curses. Peter has learned to speak American from John Wayne movies, so his vocabulary doesn't sink below "lousy" until my constant stream of invective corrupts his mouth. Soon he is trying, of course hopelessly, to outdo me.
We are exhausted and filthy by the time we arrive in Dam Ron. As we wheel through the village, a man sways after us, saying "sleep, sleep." We look at each other. "He's drunk." "Yeah. Does that matter to you?" "No." "Good, me neither." At Mr. Sar's house we kick into spectacle mode. All the children in the village gather to stare from behind each other's backs. We sit on the porch and run through all the Lec we can remember. Niem sa - hello; dac - water; Ngac - goodbye; Nou tournom - rice wine, let's drink!, or cheers!; Jop io - smoke; on ngai - thanks; ponol - to get drunk. I amuse myself by picking the boldest little boy to stare at. I follow him with my gaze as he peeks from behind his friends, and retreats around the corner of the house.
Peter and I have seen people taking a bath in an irrigation ditch, and decide to do as the locals do. The water is none too clean, but since we are even dirtier, we jump in with a bar of soap. Pretty soon curiosity has overcome politeness, and we have an audience of the entire village.
Dinner segues into drinking. Throughout it all, we are surrounded by a constant stream of adults and children wandering through. The adults want to sit down and shake our hands. Children stare in through the window and wander through the house in the confusion. I pull out pack after pack
of 555 brand cigarettes, an unaccustomed luxury for the men. I toast the latest new arrival "nou tournem!" and hand him a glass of liquor. Then I notice that he is a stocky young Vietnamese, not a Lec, and that the room has fallen silent with his entry. A bearded Lec interpreter announces him as the chief of police and can he please see your passports. Having heard stories of tourists in Vietnam being hassled by rural police, bribes extracted and so forth, and conscious of our location pretty close to nowhere, Peter and I hem and haw. We've already learned that we're the first cyclists to have ridden this route, and aren't sure what the official reaction will be. Finally, we hand the documents over. The chief copies our information and to our relief hands our passports back. Then comes an inviation for us to sleep that night at the police station. After much slow and polite debate, Peter and I establish that the invitation is not a summons. Long discussion follows as we painstakingly establish that no one will get in trouble if we do decide to stay. Eventually, everyone is satisfied. As we all relax I quip to Peter, 'hey, he's not so bad, maybe he'll stay and drink with us." The chief understands enough English to smile and have a shot of liquor before leaving and allowing the festivities to resume.
Sleeping on a bed with a surprisingly comfortable bamboo mattress, my nervousness kicks in again. Are they going to rifle through my bags? Why are people wandering into the house at three in the morning to hang out in the dining room talking? It will be awhile yet before I am able to realize that this is not how thieves and murderers operate. Learning to fully trust my judgement about people, whatever their language, is a valuable skill that I understand, but don't fully accept until I relax into my trip in the coming weeks. But I've been initiated. This is as real as I can imagine it, and I know I can look forward to more wrong turns like this.